Lines of business leveraging our technology and know-how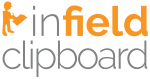 Optimize and standardize how you work from the inquiry to invoice process.
inField Clipboard is an easy to use and flexible Field Service Management (FSM) software that enables clients to manage their field resources (people, assets, vehicles) from inquiry to invoice. With a focus on IoT applications such as Bin Management, Utility Maintenance, and Vehicle Maintenance.
Bin Management (Waste and Donation Clothing Collection)
Leveraging sensors to determine the location of a bin and if a bin is full by volume. If full, the sensor informs our platform that a pickup is required. These notifications are batched, and a route optimised pickup schedule is created and can be communicated to all drivers.

The world's most intelligent building amenities management system for residential and commercial buildings.
inField Building iQ platform enables property managers and landlords to remotely monitor their residential and commercial building's amenities (i.e. water leak detection and smart washrooms), while reducing the costs and headaches due to property damage and insurance claims (due to water, etc.).
Scalable and Expandable Communication Hub and Platform. One of the critical technical requirements in creating a smart (building) environment is a scalable and expandable communication hub using cellular and WiFi, and able to manage multiple RF protocols, while working in power down situations. This is the inField Water iQ communication hub.
Commercial and Residential Building Leak and Flood Monitoring and Management. We determine the severity of issue, recommend the root cause, communicate with the appropriate stakeholder, and dispatch the ideal trade to resolve the issue in a commercial building.
We can monitor, manage, and control issues at a unit, floor, zone, and/or entire building level.
Smart Washrooms. This offering leverages several IoT sensors we can optimize operating costs and maximize efficiency by:
Automatically right sizing the cleaning and resupplying schedules based on actual usage to optimize cost and maximize maintenance experience.
Reduce safety risks and liability by minimizing the impact of water leaks and cleanliness.
Monitor waterless urinal usage to manage maintenance requirements, such as cartridge replacement.
Reduce the water usage cost by eliminating the need for hot water lines to faucets and water to waterless urinals.
Safe Site Global Association. A collective of progressive organizations whose mandate is to enable organizations to safely get back to work and thrive in a post-COVID economy.
Summary of our offering:
Audit (so, you have taken measures for COVID but are you actually certified COVID safe?)
Procedures / Policy (Mobile App Re-Enforced)
Compliance (Mobile App Re-Enforced)
Solutions

Smart Washrooms
Building Amenity Management
Self-Serve Cafeterias
Digital Transformation of Retail and Hospitality
Non-evasive Fever Scanning Gateway
UVC Solutions (mobile units, elevators, HVAC, etc.)
Various Sanitation and Cleaning Solutions
Universal and Custom Office Barriers
Personal Protection Equipment (PPE)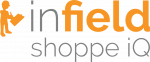 A platform that combines the efficiencies of physical shopping with the convenience and safety of online commerce.
inField Shoppe iQ platform leverages a mobile PoS app, connected cubbies, and smart procurement engine to digitally transform how patron's shop and retailer's run their business. We effectively combine the efficiencies of physical shopping with the convenience and safety of online commerce.  Our platform enables retailers to easily digital transform their physical space within a mobile app and while providing patrons options of home delivery, curbside pick-up and/or in person shopping.
inField Food iQ Shoppe PaaS is a mobile app and smart purchasing platform that personalizes the self-serve retail experience to enable operators of self-serve micro-markets, convenience stores, and restaurants to maximize profitability and the end customer shopping experience.
Self-Serve Food Micro-Markets maximizes employee engagement within offices, factories, hospital, and schools with a smart self-service micro market (prepared foods, snacks, and beverages) that personalizes the retail experience using technology powered by an automated supply chain.
Connected Cubbies are climate controlled smart lockers that are managed via the inField Shoppe iQ app where patrons can unlock and open the cubbies, while the same app is used by employees to load the cubbies. The Connected Cubbies enables retailers and couriers to provide a 24/7 secure curb side pickup.
Features:
Low transmission, COVID 19 safe
Secure and waterproof
Refrigeration and heating options
Modular units with various cubby sizes (2×2, 3×6, 12×12)
IoT enabled (GPS, temperature monitoring, etc.)
Integrated network hub and power distribution to add addition devices (cameras, tv's, etc.)
Custom branding is available
@Home Health & Wellness Program is a holistic health/wellness and food delivery program supplied to you in the comfort and safety of your home or workplace, powered by the inField Food iQ Shoppe PaaS, that includes:
@Home Food – meal plan with personal guidance from a registered dietitian
@Home Dietitian – one-on-one guidance from registered dietitians
@Home Fitness – virtual fitness training for individuals, families, and groups
@Home Mental Health – virtual mental health support services
@Home Marketplace – eCommerce platform to sell our health and wellness related products.