Why Bother with Water Leak Detection Systems?
by Rakesh Tiku, President & CEO of inField Solutions
It is true that most buildings and residences have not installed some type of water leak detection. Even though water damage can be just as costly to a property as a fire and with each claim increase the cost of property insurance. Without leak detection, water can wreak havoc when it's unleashed into a property unfettered.
According to the Insurance Bureau of Canada (IBC), a flooded basement costs an average of $48,000 in repairs. In fact, building flooding claims are estimated to be of the magnitude of $143 million per year in Canada and exceeding $6.5 billion per year in the USA. Now, with advancements in technology, it's possible to minimize the amount of damage flooding can cause to your home and property.
There are various stages of water leak detection that are available.
A water leak detection system involves using smart home sensors to monitor the state of your plumbing, and either alert you of an incident or shut off the water valve if anything goes wrong.
What are the Stages of Water Leak Detection Systems?
The first type of water leak detector is basic, where a puck or rope like device is placed in potential leak or flood areas like in the kitchen (sink, dishwasher, fridges) or mechanical rooms (mains, furnace drip pans, boilers, etc.). For leading systems, a notification is sent to the stakeholder's (tenants, landlords, property managers) smart phone and within a web-based dashboard any time there is a leak or flood. Some solutions also provide the ability to automatically or manually dispatch a pre- selected plumber to resolve the issue.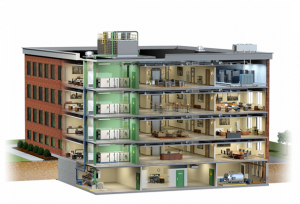 The next type of water leak detector is more advanced. A "flow interrupter" is a device you place on strategic areas such as, the main water supply (which comes in from the street) in a house or within mechanical closets / rooms throughout a building. Using the same basic water sensors as above, this system can shut off the water if a leak springs or a pipe bursts, and/or manually by an approved user. This could be the difference between an inch or feet of water accumulating in a space.
How Water Leak Detection Can Help You Save on Property Insurance
Progressive insurance companies such as Sunlife, Chubb, Allstate, Aviva, Intact, and Royal Sun Alliance, are offering lower premium rates for installing Water Leak Detection systems. But they are not typically marketing these discounts. Our understanding is that 30% to 50% of property insurance premiums are attributed to water leaks and floods, and these insurance companies are willing to discount this component of their premiums by 20% to 40%. Therefore, users of water leak detection systems can realize a savings in the range of 5% to 15% on their premium dues, while completely avoiding claim deductibles that range from $1,000s to $100,000 per claim, depending on the building type.
Whether or not your plan offers discounts for water leak detection, you should want to prevent serious water damage. Avoiding submitting claims is a significant factor in keeping your premiums low. In the event of water damage, you may have a host of problems such as structural damage and mould, and additionally for tenants, the loss of personal items, which are not covered by insurance.
The Bottom Line
It is important to select a water leak detection system that best fits each situation and budget. Other factors to consider when selecting a solution are its expandability to add additional capabilities in the future and whether you want a wired or wireless solutions. The merit of either solution will be addressed in a future blog.
Also, consider the financial implications of having a water leak detection to your building's operating costs and even the potential to increase revenue (maintenance and/or rental fees increases). Of courses, don't forget to request a discount from your insurance provider.