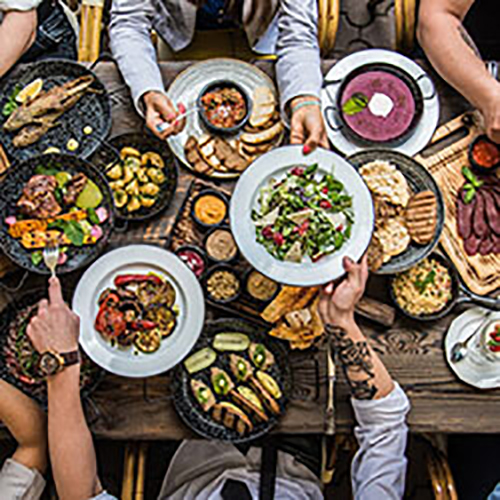 @Home FOOD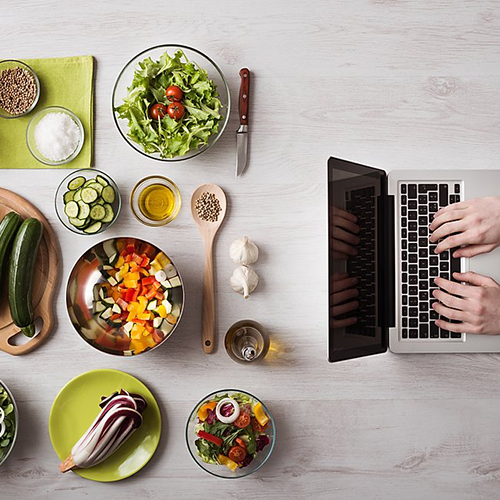 @Home DIETITIAN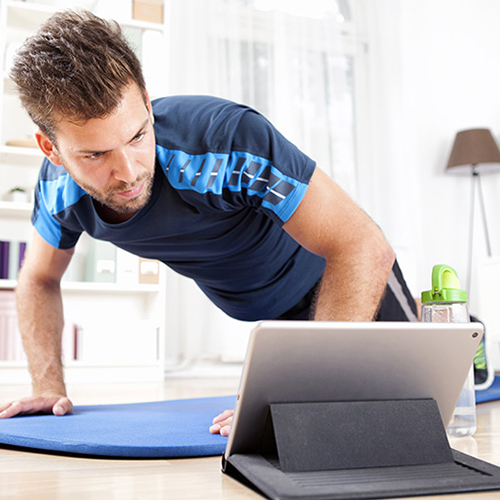 @Home FITNESS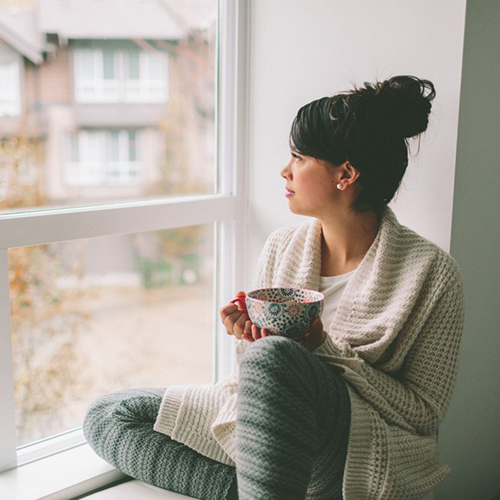 @Home MENTAL HEALTH
how it works
Download the "Food iQ" app

Use the camera on your phone to scan these QR codes to start downloading the Food iQ app.

Setup your Profile

Enter your phone number.  As a new user, the app will ask you to register in order to gain all the functionality of the App.
Add your name, email, phone number, company / location name, referral code (optional), gender, age, food preferences, and food restrictions (allergies), and accept the privacy policy.​

To Place an Order

Select the @Home program.
Select the food options you wish to purchase.  Click "Buy" on a product and you will be able to specify the quantity of each product you wish to purchase.  Complete the food purchase and identify where you wish for the order to be sent.
Services – Click on the "Services" button to view all the services available under @Home.
Select a Service, and a communication will be sent to you and the service provider as introduction.
For your food and product orders you will be paying via the eWallet, while all services will be billed directly by the service provider.
You will receive an email notification confirming your order.
Be Full, Fit, and Happy with inField Food iQ's
@Home Health & Wellness program
START NOW – Download Food iQ in the App store or scan these QR codes.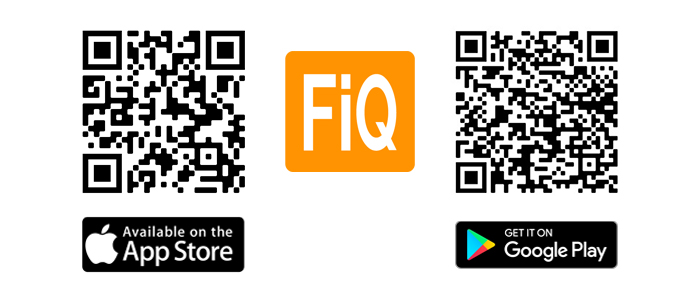 @Home

FOOD Choice Considerations
Preferences: we are constantly adding new flavours,​ ingredients, and food styles to our menu. Our goal is to take ​you on a culinary journey around the world.

Restrictions: tailor your personalized menu based on your specific allergies (lactose, gluten-free and nuts) and belief/dietary based preferences (halal, vegan).  We will be continuously introducing additional meal options.

Delivery: are you in our delivery area?  our map to make sure you are before ordering anything.
@Home

FOOD Special Offers
5 Meals
$16.50/meal
$
60
Delivery cost: $10/delivery
FIRST ORDER PROMOTION:

FREE delivery
20 Meals
$15.18/meal
$
240
Delivery cost: $5/delivery
FIRST ORDER PROMOTION:

$50 OFF + FREE delivery
30 Meals
$14.85/meal
FIRST ORDER PROMOTION:

$75 OFF + FREE delivery
@Home

DIETITIAN

services are delivered by NutriProCan Registered Dietitians who have helped thousands of customers. Registered Dietitians are trusted healthcare professionals covered by many employee benefits and health spending accounts. Whether you are trying to lose weight, improve your fitness or lower your cholesterol, building a good relationship with food, and healthy habits that you can maintain are the keys to success.
Why Choose

@Home

DIETITIAN

?
Meet with your dietitian from the safety and comfort of your home! This is a great way to spend some time in your kitchen where you can show your foods and open that pantry door. Shopping with your dietitian has never been easier!

Our dietitians take into consideration your other @Home wellness components, lifestyle, preferences, restrictions and both homemade and prepared meals. In addition, your health history, medications, supplements and goals are a key factor in your meal plans and dietary recommendations.

NutriProCan registered dietitians have developed proven programs for common health concerns and we also offer individualized support for many other health and fitness needs.

Download the Food iQ app to learn more about our counselling packages that are covered by many employee benefits!
@Home

DIETITIAN

 Special Offers
Nav is an amazing dietitian. I went in feeling sceptical that this wouldn't help with my high blood pressure. She has completely changed my life for the better. I have lost almost 30lbs so far and more importantly, my blood pressure is under control without going on life-changing medication. Nav is one of the nicest people I have met in my life and she is so motivational. She will make sure you keep on task so the results are shown.
With Lisa (Spriet), I received diet plans with suggested foods that are in, and foods that are out. Many helpful recipe resources, lots of encouragement and support.  I received in depth information on how my body uses the calories I provide it with and information on how to support essential and necessary nutrient intake.  Tests that determined a pre-diabetes diagnoses and high cholesterol also has made it necessary to change everything for my new me, my future self. Food choices are now thoughtful and necessary.  It has become not a second nature, but a first. It does not stop there. There has never been a reproachful or critical word come from Lisa; she instills the confidence in you that you have it in you to be successful.  The Nutriprocan environment is calm and professional.
Be Full, Fit, and Happy with inField Food iQ's
@Home Health & Wellness program
START NOW – Download Food iQ in the App store or scan these QR codes.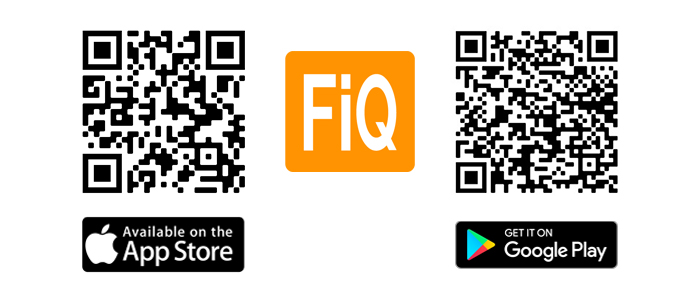 @Home

 

FITNESS

 offers a wide variety of fitness classes including access to the Booty Building Box (as seen on Dragons Den season 13 episode 4) digital program and one-on-one or group yoga sessions with Aarti, (from Yoga with Aarti) our very own yoga guru.
What's Included in the

 

BOOTY BUILDING BOX

digital program?
The Full 8-Week digital online program

A 6 Weeks Abs add-on program

Online Video Exercise Library: In-Depth Exercise Demonstrations

Progress Tracking & Maintenance : Learn how to measure, and how to stay on track
What's Included in the

 

YOGA with AARTI

 

sessions?
Personalized yoga practice  –  āsana and  prāṇāyama  – with recordings for you to keep.

Personalized sitting / meditation practice – with recordings for you to keep.

Weekly instruction / teaching workshop calls
@Home

FITNESS

 Special Offers
30 Days for $30
FIRST ORDER PROMOTION:

Sign up today and get your first 30 days for only $30

UNLIMITED USAGE
Group classes only
I absolutely love, love, love your program!  I am currently on week 6 and I am blown away with the volume I am building!  I look forward to every Monday and Thursday to get another workout in.  Thank you so much!
Aarti is a caring and compassionate teacher and mentor. She incorporates the principles of yoga into her daily life and shares her knowledge generously. I would highly recommend Aarti's classes for yogis of all levels.
@Home

 

MENTAL HEALTH

presented by Life Recovery Program presents Inward Strong, an awarded online self-directed wellness resource for individuals, families and organizations struggling with mental health, addiction, relationships and other stress related issues.   It is a helpful solution delivering proven therapies via on demand video, audio, text and guidebooks. The system is secure, anonymous, scaleable, private and accessible 24/7.  It's like having your own personal wellness coach 24/7. We help people and organizations get support, get better, more focused and become inward strong, turning your stress into strength.
Why Choose

@Home

MENTAL HEALTH

?
Self-directed Videos: Personalized, video-based learning helps people struggling with mental health and addiction challenges, as well as providing guidance to families and friends who are affected.

Tools & Techniques: There are many resources, tools and techniques included in the program that can bring immediate relief and improve coping skills.

Forum & Email Support: Mental health issues can be isolating. The LRP Forum allows users to communicate with each other in a confidential manner – supervised by LRP clinicians – and regular emails drive engagement.
Mental health can be a real tricky problem: so many people need help but don't seek it out due to all the barriers and stigma. The Life Recovery Program has managed to remove these barriers and I now have a way of ensuring nobody on my team is suffering in silence, and hidden issues don't become bigger problems for the business. Thanks LRP!
Like many industries in Canada, the construction industry faces significant challenges in the areas of addiction and mental health. Traditional responses are inadequate to address these problems within the complex and shifting contexts skilled trades people work within every day. That's why PCA is proud to partner with Life Recovery Program. Their innovative, online platform delivers the thoughtful, accessible and confidential support so many in our industry need right now. We have been a champion of this program for several years and are pleased to offer it to our own staff as well.
Be Full, Fit, and Happy with inField Food iQ's
@Home Health & Wellness program
START NOW – Download Food iQ in the App store or scan these QR codes.