Solutions to enable productive and profitable manufacturing.
Smart 24/7 Monitoring
Correlate status of the environment with the production

output quality (3D Printers, sensitive measurement

equipment, clean rooms)

​

Monitor occupancy of a space to track utilization and

ensure social distancing (as required by business policy)

​

Ensure there are no water leaks or floods in critical areas of

the facility (UPC – battery backup, server rooms, lasers,

scopes, clean rooms, 3D printing area, etc.) to reduce water

damage and related insurance costs.
Dynamic Notification
The ideal resource / stakeholder is informed via text and/or

email based on need and required task (optimize

environmental conditions, material replenishment,

maintenance, repair, or clean up) to ensure a timely response

to issues.
Smart Technology
A scalable and expandable wireless system enabling your 

building to be IoT ready.

Visual AI​
Ideal Customer
Facilities with Additive, Prototype, Production, and/or Paint

and Dip functions.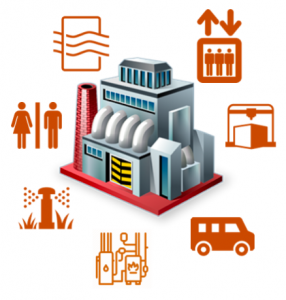 Human actions and environmental conditions on the production floor are a blind spot in factory analytics.
Our system digitizes human actions providing data on operator and line performance, and collects environmental data.
Cutting edge analytics and visualization tools enable data driven productivity improvements​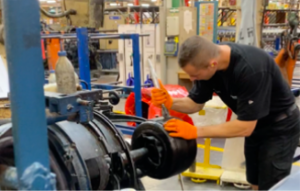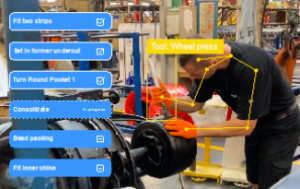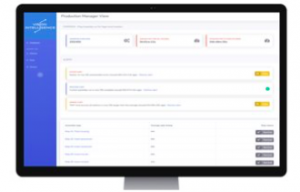 Deploying our smart manufacturing solution is like having a QC engineer, QA engineer, and trainer at every station on the production floor.
Essentially, productivity is about identifying the smallest inefficiencies and making positive changes.
With our AI enabled vision, IoT sensors, and analytics system our clients can now do this at scale with a demonstrated RoI on yield, utilization, training time, and operating costs.
How? By capturing data and unlocking its value into actionable activity.
Return on Investment (RoI).
Real-Time Assembly Analytics
Traceability and Scheduling
Skill Retention and Training
Manual assembly defect detection and prevention
Automated time and motion data in real time
Wireless IoT sensors monitor for ideal environmental condition
Trace failures and root causes
Protocol adherence and TAKT times​
Environmental data collected by sensors for debug and quality analysis
Human actions classified and categorized
Best practices isolated and captured
IoT sensors to monitor for water leaks and floods, temperature, humidity, and air quality
Notification engine to notify designated stakeholders as required
Work order management module to track KPI
IMPROVEMENT IN UTILIZATION
REDUCTION IN TRAINING TIME
REDUCTION IN OPERATING COSTS
Business Intelligence Layer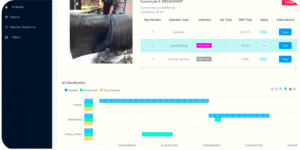 One-off purchase of hardware and a subscription model for each application used, lowers the barriers for SMEs.​
Included in the subscription is the camera and sensor management dashboard and notification engine to alert stakeholders of any recommendations, issues or dramatic changes.